Because the pipe that brings water into our house is buried underground we use it to as part of the grounding electrode system.  This is the system that connects the neutral wires in our house directly to the earth.  We do this to limit voltage in the event of transformer failures, to protect against nearby lightning strikes, to discharge static electricity, and to provide an alternate path for current if the service neutral connection is disrupted.
Because of the prevalence of plastic water pipes these days the rules for the grounding electrode system have changed a little bit recently, but the basics remain the same – we need to bond the neutral to the water pipes and connect them to the earth.
So when we connect something to a metal water pipe we need to be sure that there's a continuous electrically conductive path to the ground.  If there's anything in the piping system that can be removed it would disrupt that continuous electrical path and we need to put what's called a bonding jumper around it. [National Electrical Code NEC section 250.68(B)]  The typical place where this is required is at the water meter, and here's why.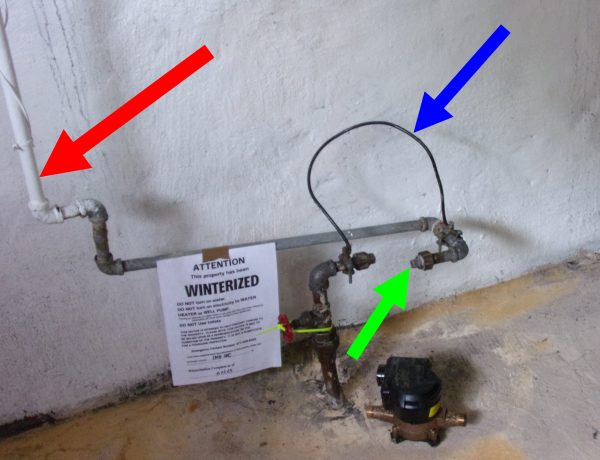 Suppose we've bonded something to the water pipe at the red arrow, or maybe somewhere farther into the house from here.  We expect that there will be a continuous path that's electrically conductive into the ground.  But without the bonding jumper (blue arrow) we don't have that path if, like here, the water meter is removed.  Our electrical path would stop at the green arrow.  In this case the water meter was removed and is sitting on the floor because the house was winterized, but the electrical system was still active.  So the bonding jumper is just a piece of wire, properly sized, that's connected to the pipes on each side of where the meter goes.
But with the bonding jumper in place there is still a continuous electrically conductive path to the earth, shown here through the bonding jumper.  So a bonding jumper is required around any device in the water supply system that can be removed.  It's an important safety feature.
More Posts You May Find Interesting