When I'm inspecting a deck I'm looking for specific problems, but I'm also looking for workmanship issues.  In other words, does it look like this deck was built by a knowledgeable crew or by a do-it-yourselfer with limited skills?  A deck built by a do-it-yourselfer, probably without a permit, is much more likely to fail in both small and catastrophic ways than one built by a professional.
Here's another deck construction problem I see a lot, and it's a big red flag that the deck wasn't built by a knowledgeable crew.
Here's a typical deck framed up, with no floor boards installed yet.  There's a ledger board attached to the house, and joists attached to the ledger (I'm not showing the joist hangers).  Then on the other end these joists are supported on a beam.  The joists might sit on top of the beam as I'm showing here, or they might be attached to the side of the beam with joist hangers.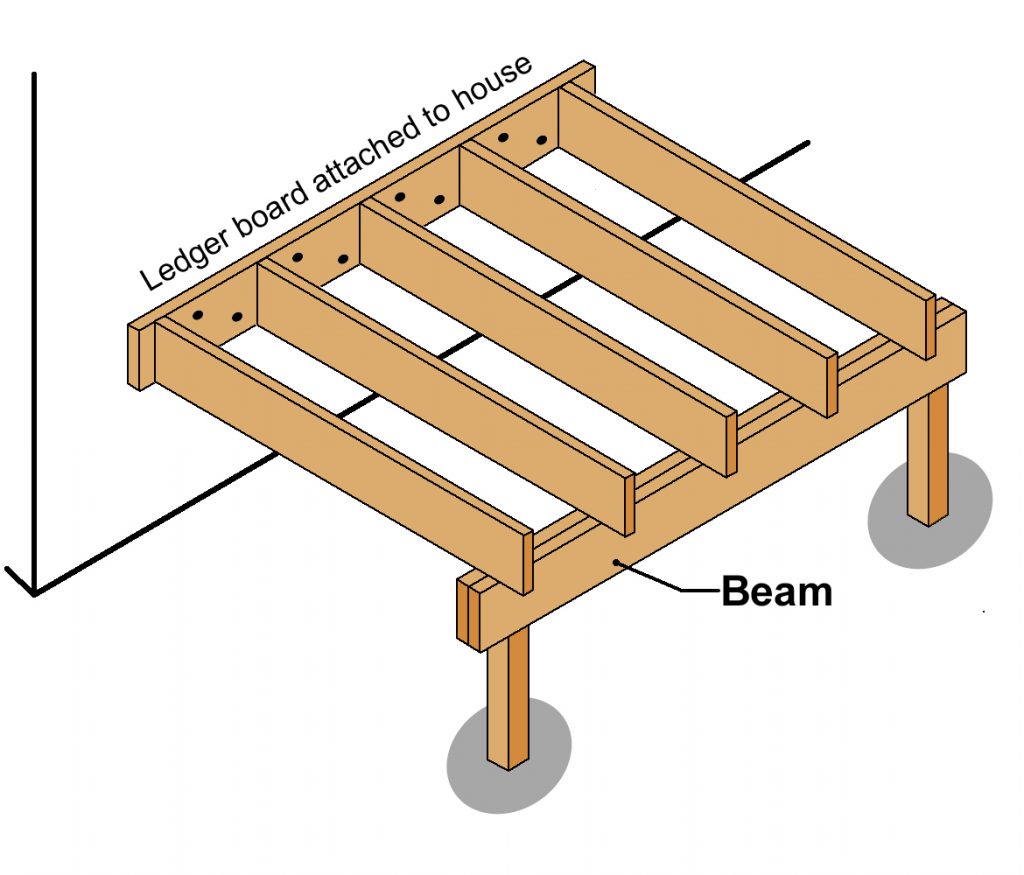 Now we'll put down some floor boards.  Here are just a few.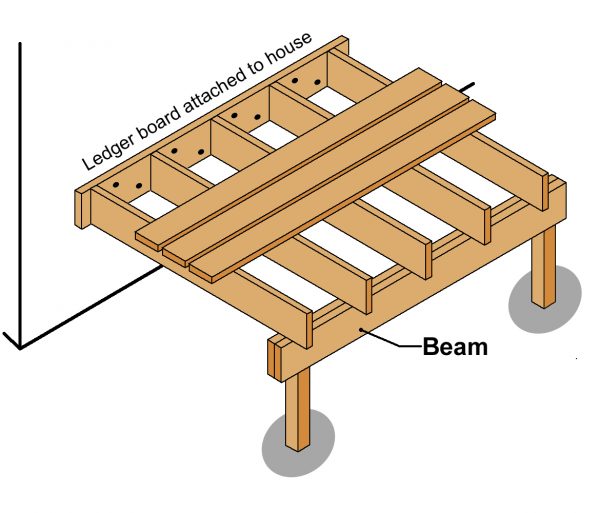 Then people are going to walk on the deck and add loads — shown in red.  No matter how hard you try, those loads are going to be shared among several of the joists, so they're sized for that situation.  But the load from all of these joists, from everybody on the deck and all the furniture and gear, is going to be taken up by this one beam.  And so this beam has to be strong – certainly it has to be much stronger than each of the individual joists because it carries so much more load.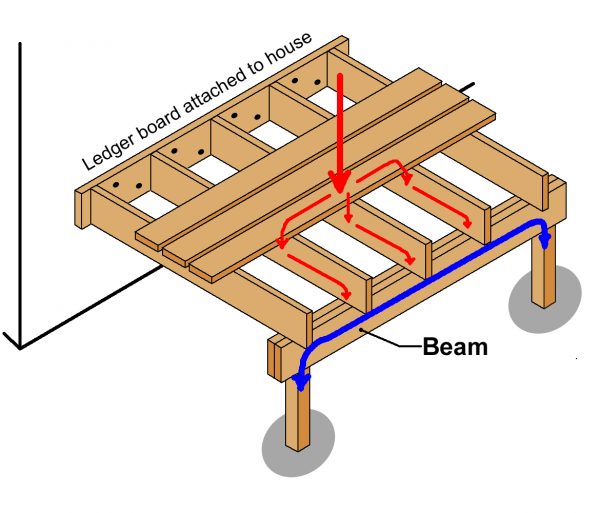 But sometimes this beam is just a single piece of the same 2-by material as the joists – maybe a 2 by 8 piece of lumber or a 2 by 10.  And this is wrong.  It's far too small.  This beam needs to be much stronger than the joists.
A knowledgeable deck builder knows this.  Typically a good builder will use 2 pieces of this 2-by lumber to form this beam.  That's pretty easy to do, it uses materials already on-site, and it works (which of course is the most important thing).  But there are other solutions for this beam so I want to be clear that this isn't the only way to do it right.
But I do want to be clear that it's wrong for this beam to be just a single piece of 2-by lumber.  It isn't strong enough.
More Posts You May Find Interesting