Automatic garage door openers are one of the great labor-saving and convenience devices of the 20th century, but they have some very big safety concerns.  The Consumer Product Safety Commission reports that from 1982 to 1996, there were 62 deaths and 49 injuries to children under 15 years of age associated with automatic garage doors and garage door openers.
The U.S. Congress passed The Consumer Product Safety Improvement Act of 1990 mandating that automatic residential garage door openers manufactured on or after January 1, 1991 conform to the entrapment protection requirements of Underwriters Laboratory standard UL 325.  Additional protections were added in 1993, and the UL 325 standard is updated every few years.
There are two basic safety systems that should be installed and used properly with every garage door opener.  There should be a photoelectric sensor (electric eye sensor) installed so that if the photoelectric beam is broken while the door is coming down then the door reverses and goes all the way back up.  According to standard UL 325 these photoelectric sensors can be no more than 6 inches above the garage floor.  You don't want your child to be able to crawl underneath these sensors and fail to activate the safety device.  This is a very common problem that I see a lot.  But I can't stress this enough – the photoelectric sensors can't be any more than 6 inches high.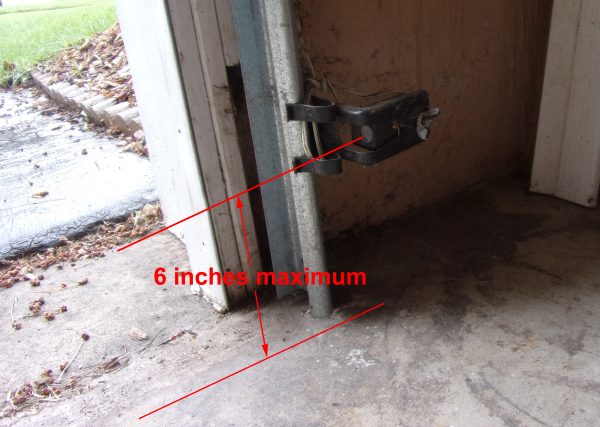 Another safety system is built into the garage door opener and is required to stop and reverse the door if it hits an obstruction.  The typical test for this safety system is to lay a 2×4 board flat on the ground so that the middle of the garage door hits it.  Upon hitting the 2×4 the opener must stop and reverse the door to its fully open position.  If this doesn't happen then several problems might be in play.  It might be that you just have to reprogram the opener so that it knows where the fully down position really is.  You'll need to check the garage door opener's instruction manual to do that.  After making that adjustment run the 2×4 test again.  If the opener still doesn't stop and reverse then you'll need to contact a garage door specialist for repair or replacement of the opener.
Both of these safety systems are very important.  Don't think that if one system isn't working that the other system will provide adequate protection.  Imagine if the photoelectric sensor isn't working – the door comes down, strikes a child's head, then stops and reverses.  That particular safety system did its job – the child isn't trapped.  But a minimum force of 25 pounds might do serious harm to the child.
There also must be a way to disconnect the opener mechanism from the overhead door.  There's usually a short cord hanging down from the point where the door attaches to the opener mechanism.  The cord attaches to a red handle that you pull.  This is also the way to open or close the door if you've lost electrical power.  It's easy enough to pull this handle and test that the door comes loose, but be careful because sometimes it's kind of hard to get the door attached again.
There also needs to be a device referred to as a "30-second clock." The 30-second clock is a back-up device that stops and reopens the door if the door doesn't close completely within 30 seconds.  But this really isn't the kind of thing you can test at home.
It's now possible to connect your garage door opener to the internet and control it remotely.  This adds a whole new layer of safety concerns.  If you can close the garage door without being anywhere near it– without being able to see if someone is right there – then you're adding some uncertainty.
This is called unattended operation and it's is only allowed with sectional overhead doors – not with solid or swing doors.  These older kinds of overhead doors are very rare now anyway.  There must be both an audible and flashing light visual alarm signal for a minimum of 5 seconds before the door starts to close.  There are some specific requirements for the noise and light, but I won't get into those details because it's not really something you can test at home, except for this – the light must be at least 40 watts incandescent or 360 lumens, and the light and sound must be noticeable throughout the entire garage.
During this pre-motion alarm period it must be possible to prevent the overhead door movement by using any of the normal door controls, like the wall button or the wireless remote in your car or a keypad.  And you're only allowed two attempts to close the door remotely.  If those two attempts fail for whatever reason, then the whole system needs to shut itself down and require the user to actively reset it at the door opener.
There's another aspect to unattended operation. Some garage door openers have a timer that allows the user to set a time period so that if a door stays open past that amount of time then the door will close automatically, without a user pressing the wall control or remote control.  This feature is considered a version of unattended operation, and the door opener must have the same safety features as described above for unattended operation.
Unlike many safety issues, this one isn't just theoretical – kids have died.  Please be sure that your garage door opener and all its safety systems are working properly.
More Posts You May Find Interesting