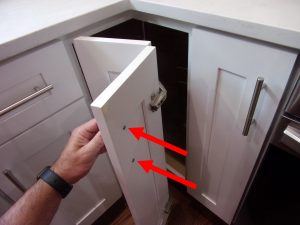 Here's a problem I see a lot that just drives me crazy.  In some kitchens the corner cabinets have a door that's hinged in the middle as well as on the side.  It looks like this.   And of course there's a handle on this cabinet door, and that handle is attached with screws.  You can see the screw heads here.
The problem is that when most people close a cabinet door like this they first push the handle against the adjoining cabinet and then slide it over.  Something like this.
And then what happens is the screw heads that are sticking up above the back face of the cabinet door will scratch the heck out of the adjoining cabinet door and the cabinet face frame.  Here's a different cabinet showing all of the scratch marks.
This looks terrible.  And I see this to some degree on the vast majority of corner cabinets that I see, even in some very high-end kitchens.  It drives me crazy.  Sometimes the little rubber bumper at the corner of the cabinet door (you can see it in the top two pictures of this blog post) helps to prevent the door from closing far enough to let the screw heads do damage.  But these little rubber bumpers can pretty easily fall off, so they're not the solution to this problem.
The best solution is to drill a counterbore hole so that the screw head sits completely below the surface of the cabinet door.  A counterbore is a shallow, flat-bottomed hole that's big enough to allow the screw head to fit down into it.  Then the screw head sits safely below the surface of the cabinet door and can't do any damage.  And when I see this done I know that the contractor was knowledgeable and has a good eye for detail – definitely a plus when buying a house.
Another solution – not as good, but not bad – is to cover the screw head with vinyl tape.  Standard electrical tape is vinyl tape.  It sticks very well and for a very long time, it has a smooth slick face so it won't scratch the cabinet, and it even comes in a lot of different colors so you can get one that matches your cabinets, maybe not a perfect match but almost certainly pretty close.
More Posts You May Find Interesting